The Style File: Mission style kitchen cabinet hardware has its roots in the international craftsman movement, which took off as a more down-to-earth antidote to over-the-top Victorian ornateness and the mass-produced frenzy of the Industrial Revolution. Today, mission's rich historical legacy can be spied in designs that emphasize flawless form, texture and materials over bold surface colors and patterns. A classic hammered face is probably the most elaborate detail you'll find on metal-finished arts and crafts cabinet hardware, but that's not to say you'd be settling for simple. The idea is to let the workmanship speak for itself through an understated yet sophisticated aesthetic. It's Your Perfect Match If: You buy all of your groceries from the local farmers' market, crave everything handmade and can't resist a good flea-market find. With its warm metal tones and antique accents, mission style cabinet hardware has the look and feel of being transported straight from a blacksmith's well-worn forge.
---
The Style File: Featuring ethereal designs that run the gamut from playful animal silhouettes to mystical engravings to delicate floral handles, whimsical cabinet hardware is the ultimate grown-up take on fairy tales. While it may draw its inspiration from hidden worlds, a professional artistic touch means that whimsical style is never too amateur or childish to fit into your modern lifestyle. Balanced with more structured elements, it can bring a measured touch of magic to any home, whether you live in a charming country cottage or a contemporary urban abode.
It's Your Perfect Match If: You're a dreamer with a bigger-than-life imagination. If you've always wanted to live in a storybook romance, now is your chance. Expertly carved into quality metals and ceramics, whimsical cabinet hardware makes it easy to unleash your inner creativity without turning your home into a scene from Cinderella.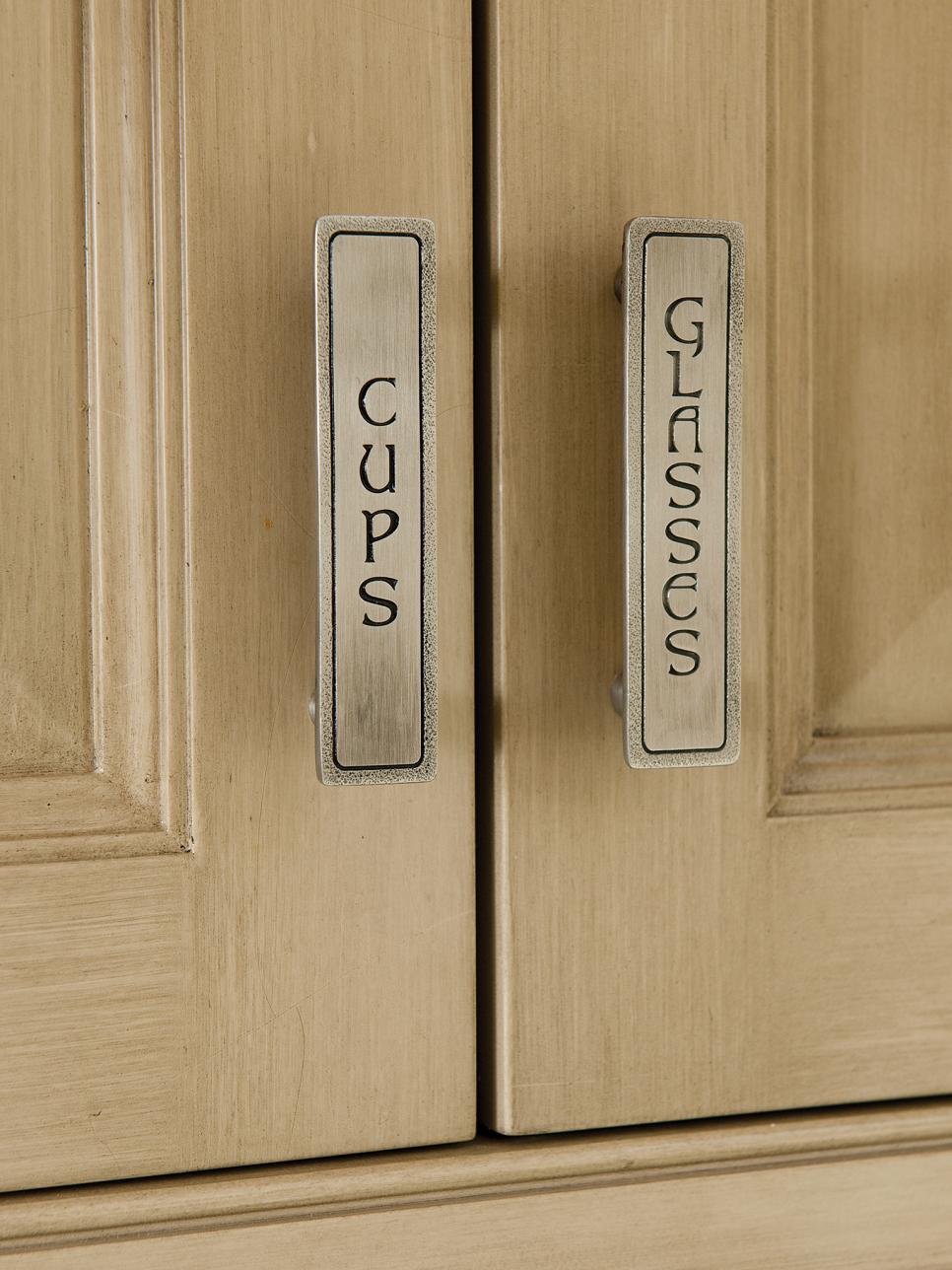 Photo Courtesy: Dan Piassick © 2013 Gibbs Smith, Allure of French & Italian Decor, Betty Lou Phillips From HGTV
---
The Style File: Created to mark a fresh start in post-war America, mid-century modern design feels as relevant today as it did in decades past, largely thanks to its unique ability to seamlessly blend into any space. Sleek and sophisticated with a minimalist sensibility, it serves more as an extension of the home's architecture and its surrounding landscape than a standalone attraction, and that's just the point. Combined with precise construction, clean lines, organic materials and structured shapes, mid-century modern cabinet hardware creates a natural flow for an effortlessly cool look that never goes out of style.
It's Your Perfect Match If: You're sophisticated without being showy. You love the idea of a home that feels in harmony with nature, but you're no flower child. For a kitchen that feels equal parts voguish, laid-back and environmentally chic, mid-century modern hardware is your best bet.
---
The Style File: Just like it sounds, Eastern influence brings Asian-inspired details like burnished metals, intricate patterns and calming silhouettes to the Western shores. Variations in Eastern cabinet hardware depend on the region. Designs that hail from the Chinese and Japanese schools of style tend to follow a slightly stricter aesthetic with emphasis on sharp geometric lines and abstract shapes, while those that source ideas from the spiritual side of Southeast Asia are usually more otherworldly and ornate. If you can't decide which region's art speaks to you, East-meets-West fusion designs offer the ideal middle ground.
It's Your Perfect Match If: Your idea of a dream vacation involves visiting Buddhist temples in Bangkok, buying silk from the markets of Beijing or getting lost in the Balinese rice fields. Your sense of adventure calls for decor with an international vibe. Asian cabinet hardware may not be the same thing as a one-way ticket to paradise, but it's sure to keep your inner globetrotter happy to be home until your next exotic adventure abroad.
---
The Style File: Its strong emphasis on neutral colors, streamlined silhouettes and classic proportions make transitional style hard to pin down, but if you had to use a single phrase to define it, it would probably be understated elegance. Like much transitional decor, transitional cabinet hardware is all sleek lines and crisp cuts with no pops of bright color in sight. If that sounds like a recipe for a boring home, don't be so quick to judge. While it might look simple and straightforward, nothing is an afterthought here. With every line and curve carefully accounted for, transitional style strips interior design back to the basics while maintaining an airy and tasteful ambiance.
It's Your Perfect Match If: You're cool, calm and collected with a refined edge. While you aren't about extravagant glitz and glamour, you wouldn't dream of being caught red-handed with a chipped manicure or a messy closet. When you prefer chic, minimally elegant details over big-impact statements, transitional is surely your style soul mate.
---
The Style File: Because traditional is too often used as a code word for outdated, old and boring design, it's easy to dismiss it as something that belongs in your grandparents' house, but that would be more than a little unfair. In reality, far from the stuffy images it conjures up, true traditional style borrows from the best of classic trends and materials to infuse a little more down-home comfort into today's hectic modern lifestyle. Characterized by recognizable retro colors, weathered textures and pleasantly rounded shapes, traditional cabinet hardware can be just the thing to make your modern kitchen feel a little more personal.
It's Your Perfect Match If: You miss the familiar comforts of your childhood. If classic art, vintage toys and period movies make you smile, traditional style should be one of the first choices on your design radar. With small-scale accents like retro cabinet hardware, it's easy to give any space a traditional makeover without veering into all-out nostalgia.
---
The Style File: Modern is sometimes used as a catch-all term for a variety of minimalist movements that rebelled against the excesses of centuries past, but at its core, it simply stands for cutting-edge design. By manipulating form, function, color or texture, modern style aims to split with tradition in ways that feel fresh and unexpected. For makers of modern cabinet hardware, that means playing with different media, creating futuristic finishes or incorporating natural materials into artificial foundations.
It's Your Perfect Match If: You start your day with reading the latest tech news and can't wait until the age of space travel. When you always have your eye on the future, you want a design style that doesn't keep you tied to the past. Whether you choose a sleek metal knob, a minimalist steel bar pull or a round mixed-media button, modern hardware brings the best in up-to-date design right to your fingertips.
---
The Style File: While they're often confused for one and the same, contemporary and modern styles are more like distant step sisters than identical twins. While modern is used to describe designs that break new ground, contemporary covers what's popular right now. If that sounds like a fleeting trend, it helps to remember that design cycles take years – sometimes decades – to transition into something entirely new, so you don't have to worry about your contemporary cabinet hardware going out of fashion. Polished metals, high-gloss finishes and the use of timeless materials like glass and crystal give today's contemporary cabinet pulls own-it-forever appeal that you can trust.
It's Your Perfect Match If: You think of yourself as an early adapter of all things stylish. If you're always the first in your circle to rock a new trend, contemporary design is your calling. Eye-catching contemporary drawer pulls let you bring the same fearless, fashion-forward attitude to your kitchen.